Bamboo Charcoal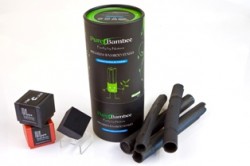 We all love wearing bamboo and now thanks to Pure Bamboo we can bring you great products for use around the home!
Bamboo Charcoal
Bamboo is treasured for its healing powers, its beauty and versatility. A special heating process creates bamboo charcoal with billions of porous pockets and powerful ability to absorb odours, moisture, chemicals and electromagnetic waves from the surrounding environment. Bamboo charcoal also helps purify drinking water and enriches it with minerals.
With Bamboo Charcoal, black really is the new Green!
---
This category is empty! Please try another category or use our search function to find what you are looking for. If you require further assistance please contact us.