Bamboo Socks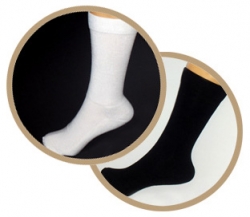 Bamboo socks are great for people who are conscious about healthy feet, desire performance and superior comfort in their socks. Just like any of our bamboo clothing, bamboo socks are a natural and environmentally friendly option and provide these and many more benefits. Scientists have found that the unique anti bacteria and bacteriostatic bio-agent of bamboo is a naturally effective way to
combat odour
creating bacteria. Tests have also shown that the bamboo fibre is up to 4 times more absorbent than cotton, helping to absorb moisture and improve ventilation.
Don't just trust us here's what our customers have to say:
Bamboo socks cured my stinky sports shoe problem! And now I can also wear black bamboo socks with my leather business shoes. My feet stay fresh despite being on my feet for up to 18 hours a day – I love them. (Tim Sturrock, Australia)
I am a Diabetic and as a result I have severe health problems with my feet. Over many years I have tried all brands of socks with every fibre content and mixture possible, in an attempt to seek relief for my feet. I had no long term success with any of these socks until I tried the Bamboo Health Sock. This Bamboo sock has given me lasting softness and great absorbency, added to this the loose fitting top which assists with my circulation. Whilst the sock is not a cure for my feet it has provided the best lasting softness and comfort that I have ever previously experienced. (Linet Walton, Croydon)
BooSox are by far the most comfortable, best-fitting athletic sock that I have ever worn. I tested them out all summer hiking through Northern Minnesota and the Canadian mountains and found them to stay dry and not sticky and sweaty. Whether I am working out or lounging around, BooSox are the first pair of socks that I reach for. (April F, Minnesota, USA)
Every tradies favourite, Bamboo Work socks by Bamboo Textiles, have proved to be a winner as a walking sock too! We have had rave reviews from customers who have trekked the Kakoda trail, Everest base camp and Comino Way to name a few.
---