Bamboo Sheets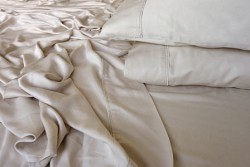 These luxurious bamboo bed sheets are made from 100% bamboo fibre for a beautiful nights sleep.
Bambusa offer a 4 piece Deluxe bamboo sateen King and Queen sheet sets in soft grey, ivory white, creamy latte and pewter with matching duvet sets. By popular demand the range has been extended to included Mega King and Mega Queen sheet sets to cater for deep base mattresses. Team with Bamboo blankets the perfect to match your sheet sets, available in soft grey, ivory white, creamy latte, apple green and red terra for year round comfort.
Ecosleep who brought us Mulberry Silk quilts now have Bamboo Alpaca Quilts for a truely exceptional nights sleep. Made in Australia with a 5 year guarantee, you won't be disappointed with this one! The EcoSleep 100% Mulberry Silk Quilts, a breathable, hypo allergenic fibre allow your body to breathe year round and are an excellent choice for allergy suffers.
Spoil bub wth a Cot size Mulberry Silk Quilt by Ecosleep and bamboo sateen baby cot sets by Bambusa

Tired of making the bed? Coshee have come up with the perfect solution. Elegant and stylish' the Coshee Classic collection features a bamboo and cotton top sheet that clips to the natural 100% cotton sateen quilt cover.
'I have just referred a friend to your site for your gorgeous bamboo sheets of which we already have 3 King sets. We absolutely love them & tell everyone about them & so far 2 of our friends have purchased from you.' Tania
'The sheets are truly lascivious and I thank you for such a fine product.' Kevin
---