Knit Fabrics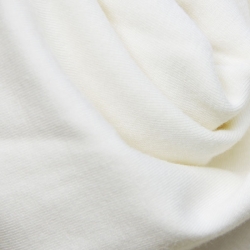 At the Bamboo Fabric Store we offer a range of bamboo and bamboo blend fabrics and products that have been carefully sourced to guarantee quality whilst at the same time supporting ethical industries. The majority of our fabrics are available in natural (antique white or off white) colour which due to the unique properties of bamboo are beautiful to wear year round and are especially great for eczema and allergy sufferers.

Bamboo knitted fabrics are super soft and elegant to wear making them ideal for patterns requiring a bit of stretch. Our range of knit fabrics include 100% Bamboo, Bamboo & Organic Cotton, Bamboo & Spandex, Bamboo Organic Cotton & Spandex, Bamboo & Sorona (derived from corn but best known for its with anti UV properties and soft drape) and Bamboo & Hemp blends. We have a superb range of knit fabrics suited for stretch garments such as tshirts, yoga pants, dresses, tops,leggings, baby wear and more thus highlighting the versatility of this truely modern day fabric.

Bamboo leads the way as an enviromentally friendly nappy fabric that is super absorbent, antibacterial and surprisingly soft to wear against the skin. At Bamboo Fabric Store we stock a complete range of bamboo nappy fabrics that have been described as 'best quality' by those in the business and include Bamboo Fleece, Bamboo Terry, Bamboo Velours, Bamboo PUL and more.

All of our bamboo fabrics are sold by the metre and due to popular demand we have introduced coloured fabrics to our range.

SAMPLES
The Bamboo Fabric Store would like to stress that fabric colours may vary according to your monitor. Samples of all our fabrics are therefore available to purchase online at a minimal cost and are an excellent way to view both colours & textures.

POSTAGE
Our flat rate of postage is $12.90 within Australia and will be calculated automatically at check out, for wholesale orders we can provide a quote. Please contact us for details.
---