Antibacterial
Author: Sharon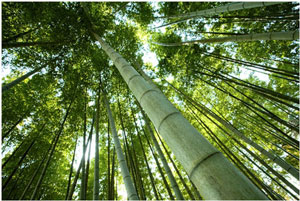 Bamboo can thrive naturally without the use of pesticides as it is seldom eaten by pests or infected by pathogen.
There were claims out of China that scientists found that bamboo contains a unique anti-bacteria and bacteriostasis bio-agent named "bamboo kun". This substance is maintained in the finished bamboo fabric as it is bound tightly to the bamboo cellulose molecule.
Bamboo fabric has excellent natural functions. The claimed anti-bacterial and deodorising properties come from the Japan Textile Inspection Association who found that even after bamboo fabric had been washed fifty times, it still possessed excellent anti-bacterial and bacteriostasis functions.
Test result showed that over 70% of bacteria incubated on bamboo fibre fabric did not survive.
If bamboo fiber proves to be naturally anti-bacterial then this differs greatly from that of chemical antimicrobial. The latter often tends to cause skin allergy when added to apparel.