Processing
Author: Richard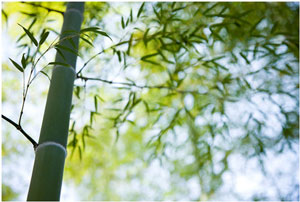 Bamboo fiber fabric production flow: bamboo - thick pulp - fine pulp - bamboo fiber - bamboo yarn - fabric.
Bamboo Fiber is a kind of regenerated cellulose fiber, which is produced from raw materials of bamboo pulp. Firstly, bamboo pulp is refined from bamboo through a process of hydrolysis-alkalization and multi-phase bleaching. It is then procesed pulp is turned into bamboo fiber.
Repeated tests have proven that it has a strong durability, stability and tenacity. The thinness and whiteness degree of bamboo fiber is similar to classic viscose.
Bamboo can be spun purely or blended with other materials such as Sorona, cotton, hemp, silk, Lyocell (Tencel)), Modal, cotton chemical fiber and so on.
After hi-tech processing bamboo fiber is thinner than hair. It has a round and smooth surface. Thus it is not rough against human skin.